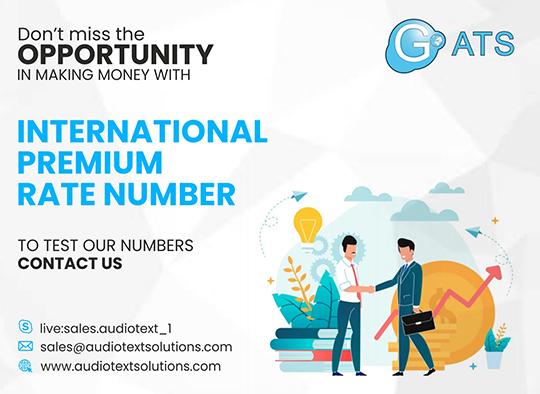 Business booms when its services are up to the mark. But how can one provide their services overseas? Well, the answer has always been the same. With International Premium Rate Numbers (IPRN) of course.
For those who are unaware of the IPRN, a short recap on its being.
IPRN or simply International Premium Rate numbers are telecom industry generated numbers that charges a higher rate than its usual contemporaries.
What could be the reason behind their higher rates you might ask?
Well, these so called numbers are premium and international for one reason. That is because these numbers are required for premium rate services.
Many big institutions and companies represent their services through the medium of IPRN. You might've seen some channels or shows that points out to the numbers below on the screen.
Similarly, telephonic services can be provided through these numbers internationally. Some of the services are:
Ticketing
Songs on Demand
Live Chat
Recipes
Game Shows
Polls & Voting
Shopping Products
Product Ordering
Bill Payments
Horoscope
Banking Services
Traffic Updates
Weather Forecasts
Informational Queries
These services are used and can be run only with the premium numbers.
But then again, why these services are only fit to represented on IPRN and not on the ordinary numbers?
IPRN is extremely confidential and hence considered to be as the safest payment channel on an international level. The services rendered on IPRN does not require confidential details like bank accounts or credit card numbers.
That is why employing IPRN for a business is considered trustworthy by the consumers.
Audio Text Solutions has been working in the telecom industry for more than a decade. Having experienced the industry working, it has partner up with the Tier-1 carriers and have formed many clients.
At present, ATS provide
International Premium Rate Numbers (IPRN)
Domestic Premium Rate Numbers (DPRN)
Session Initiation Protocol (SIP)
Soft Switch
Customized Dialer
24×7 Dedicated Support
Exclusive Access
More than 170 Destinations
Updated Inventory
Weekly Offers
Unlimited minutes
Great Access
PRN from Tier-1 carriers
So, if you are looking for IPRN numbers with great access and competitive market rates to elevate your business then you can buy it from ATS.
If, you are looking to grow your telecom business than you can register with ATS an accomplished telecom company that can help you with setup and 24×7 dedicated support.
Get more information on Audio Text Solutions at its official website. Register with us, generate traffic and get quick and secure payouts.